Heterologous ectoine production in Escherichia coli: By-passing the metabolic bottle-neck
Received: 19 February 2008
Accepted: 29 August 2008
Published: 29 August 2008
Abstract
Transcription of the ectoine biosynthesis genes ectA, ectB and ectC from Marinococcus halophilus in recombinant Escherichia coli DH5α is probably initiated from three individual σ70/σA-dependent promoter sequences, upstream of each gene. Consequently, mRNA-fragments containing the single genes and combinations of the genes ectA and ectB or ectB and ectC, respectively, could be detected by Northern blot analysis. Under the control of its own regulatory promoter region (ectUp) a seemingly osmoregulated ectoine production was observed. In addition, aspartate kinases were identified as the main limiting factor for ectoine production in recombinant E. coli DH5α. Co-expression of the ectoine biosynthesis genes and of the gene of the feedback-resistant aspartate kinase from Corynebacterium glutamicum MH20-22B (lysC) led to markedly increased production of ectoine in E. coli DH5α, resulting in cytoplasmic ectoine concentrations comparable to those reached via ectoine accumulation from the medium.
Keywords
Transcription Initiation SiteAspartate KinaseMedium MM63Ectoine ProductionEctoine Synthesis
Background
To master the osmotic stress of saline environments, halophilic organisms accumulate highly water-soluble organic osmolytes, so-called compatible solutes [1–3]. Ectoine (1,4,5,6-tetrahydro-2-methyl-4-pyrimidine carboxylic acid), the compatible solute that was first discovered in Ectothiorhodospira halochloris [4], is one of the most commonly found osmolytes in nature [5–9]. Besides their osmotic effect, ectoines as well as other compatible solutes have been found to improve protein folding and to protect biomolecules such as enzymes, nucleic acids, antibodies and even whole cells against heating, freeze-thawing, drying or chemical treatment [10–14]. Additional applications of ectoine include use as protective additive, modulator of proinflammatory response and moisturizer for skin care products [15–17], and potentially also for treatment of diseases related to protein misfolding [18–21]. In view of its potential as a stabilizing, protective and pharmaceutical agent, a bioprocess for ectoine production named "bacterial milking" has been developed for commercial exploitation using the halophilic eubacterium Halomonas elongata [22].
The non-halophilic
Escherichia coli
has been shown to accumulate ectoine from the surrounding medium, and as a consequence its tolerance to elevated salinities is increased [
23
]. Also, recombinant
E. coli
XL1-Blue is able to express the ectoine genes
ectABC
from the Gram-positive moderately halophilic
Marinococcus halophilus
and exploit the enzymes of the biosynthetic pathway for osmoregulated ectoine production [
7
]. The organization of the ectoine gene cluster and its relation to the ectoine biosynthetic pathway is shown in Fig.
1A
and
1B
. A search for consensus sequences for σ
70
/σ
A
-dependent promoters revealed two potential promoter sites upstream of
ectB
, but none at the beginning of the gene cluster [
7
]. Using deletion derivatives, however, the authors were able to conclude that regulating sequences must extend up to or beyond 150 bp upstream of
ectA
.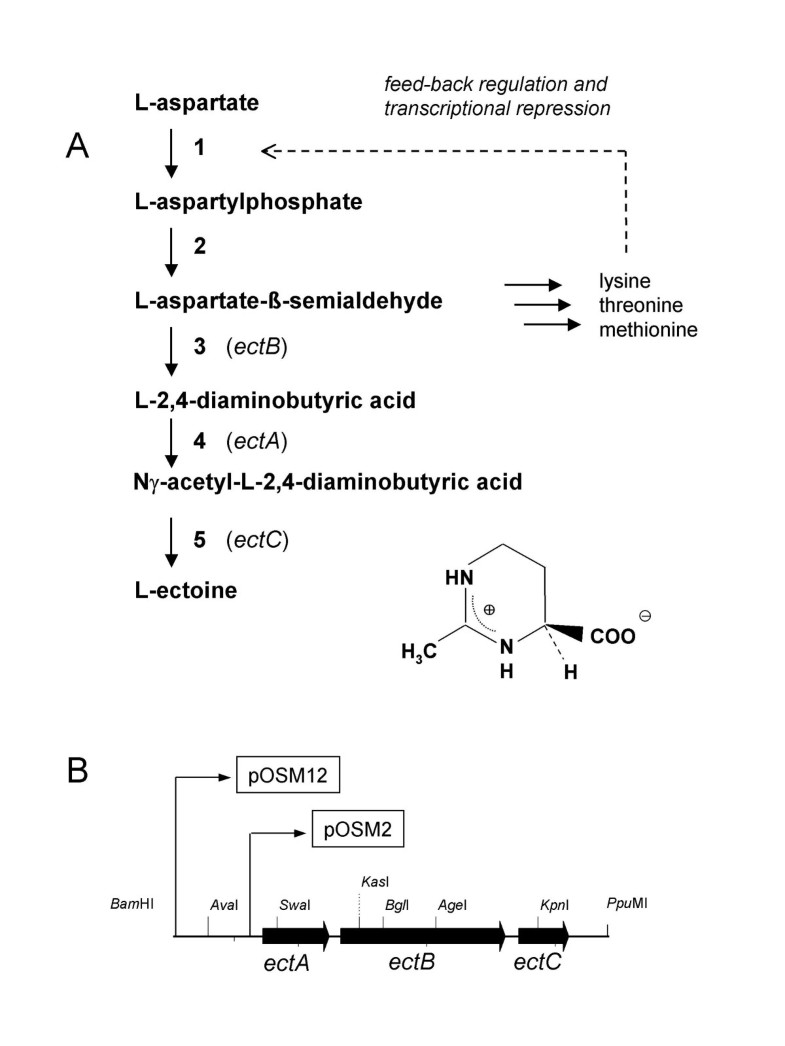 In this study, we report the transcription initiation sites of the ectoine gene cluster as determined by RACE (rapid amplification of cDNA ends) in both, the donor Marinococcus halophilus as well as the genetically engineered E. coli DH5α. In addition, we report on potential metabolic limitions for heterologous ectoine production and the generation of a new recombinant production strain freed from one such metabolic "bottle-neck" which limits substrate supply of the ectoine biosynthetic pathway.
Discussion
Transcription of ectoine genes in M. halophilus and recombinant E. coliDH5α
Data on transcription regulation are still rare for halophilic eubacteria, but have been investigated in detail for the Gram-positive non-halophilic model organism Bacillus subtilis, and, of course, E. coli. Transcription of genes essential for cell survival during exponential growth is controlled by the primary sigma factors σA and σ70, respectively, which recognize a promoter consensus sequence comprising a -35 region TTGACA, a spacer of 16–18 nucleotides and a -10 region TATAAT [25]. Of the three σA/σ70 promoters identified in this study, only the one upstream of ectB (ATGACA-N18-TATTAT) had previously been identified by Louis & Galinski [7], because the other two (TTGAAA-N17-TAAGCT and TCGACT-N17-TATGAT) deviated by 4 and 3 nucleotides, respectively, from the consensus sequence.
General stress response, on the other hand, is mediated by the alternative sigma factor σB in Bacillus subtilis (among other Gram-positive bacteria) and σS in E. coli [29, 30]. For σB-dependent promoters a -35 region GTTTAA and a -10 region GGGTAT, separated by a spacer of 12–14 nucleotides, have been proposed [31]. For σS-dependent promoters in E. coli Espinosa-Urgel et al. [32] proposed a -10 region CTATACT, which is only slightly different from the -10 region recognized by σ70. A conserved -35 region could not be defined so far, but an intrinsic curvature in this region is proposed to compensate for it. Due to these marked differences it is rather unlikely that a genuine σB-dependent promoter of a Gram-positive bacterium should be recognized by the Gram-negative E. coli.
In earlier work Louis and Galinski [7] could not resolve the question whether the three ectoine biosynthetic genes (ectA, ectB, ectC) are transcribed separately or as a single operon. Using the RACE method we have now shown that they are transcribed both as single genes and as mRNA's comprising ectAB, ectBC and possibly ectABC in M. halophilus (not shown). Heterologous expression of the ectoine gene cluster in E. coli, also resulted in single and double gene mRNA products.
We have shown here the successful expression of the ectoine biosynthesis genes ectA, ectB and ectC (as well as ectAB and ectBC) from the Gram-positive M. halophilus in the Gram-negative E. coli. This is explained by recognition of all three σA-dependent promoters preceeding individual genes of the ectoine biosynthesis gene cluster of M. halophilus. Due to the conformity of the consensus sequence of σA- and σ70-dependent promoters this result is not surprising. In addition to the σA-dependent promoters, a σB-dependent promoter for the transcription of ectAB (and possibly ectABC) could be characterized upstream of ectA, suggesting that transcription of the single and the multiple gene products is initiated via different regulatory mechanisms in the donor M. halophilus. This promoter recognition sequence (GTTTGT-N13-AGGTAT) deviates by 3 nucleotides from the consensus sequence and had, therefore, previously not been recognized by Louis and Galinski [7]. A potential σB-dependent promoter 280 bp upstream of ectA, which was proposed by Louis and Galinski [7], is apparently not involved in the regulation of transcription of ectoine genes under the experimental conditions employed. Use of the σB-dependent promoter by recombinant E. coli was neither demonstrated nor to be expected. Due to the similarity of the σS-dependent -10 region CTATACT to a σ70-dependent promoter, it cannot be stated without further investigation, e.g. by sigma-factor binding studies, whether transcription of ectoine biosynthetic genes in E. coli is under control of σ70, σS or an interplay of both. In addition it has already been shown in several studies that σ70-dependent promoters could also be recognized by σS [33, 34], and a regulatory interplay of σ70 and σS, based on changes in binding affinity affected by global regulatory factors, was proposed [35, 36].
Recent work on Bacillus pasteurii has shown that the ectABC genes are organised in a single operon in this organism. Expression of ectoine genes was only observed when cells were grown at elevated osmolarity and a single gene transcript (2.6 kb) and a typical σA-dependent promotor region were identified [37]. Unfortunately upshock experiments were not conducted, hence the possibility still remains that an additional stress response promoter (σB-dependent) may also be involved in the organism's short-term adaptation. In contrast to B. pasteurii (a halotolerant species) M. halophilus is a true halophile with a growth optimum at around 2 M salt. It is therefore not surprising that its salt stress response strategies are apparently more complex.
In a comprehensive promoter analysis of the ectoine gene cluster in Chromohalobacter salexigens (member of the Halomonadaceae) four putative transcription initiation sites were identified, at 44, 96, 134 and 149 bp upstream of the ectA start codon. Two of these were of the σ70-type, one probably σS and a fourth promoter with no similarity to known sigma factors. Consequently, the authors concluded the existence of a complex regulation pattern of ectoine synthesis in this true halophile [38].
The observation of osmoregulated ectoine production in E. coli DH5α pOSM12 could of course result from posttranscriptional regulation, including for example controlled uptake and/or excretion. However, as both transport systems for ectoine (ProP and ProU) are functional in E. coli DH5α pOSM12 and ectoine was not detected in the medium (at 10 μM sensitivity), we propose that ectoine synthesis is, at least partly, controlled at the level of enzyme activity. Still, the inability of E. coli DH5α pOSM2 to transcribe ectA and ectAB in the absence of IPTG and ectAB even under IPTG-induction, as well its impaired ectoine production, stresses the importance of the DNA region upstream of ectA (ectUp) for controlled expression of the ectoine biosynthesis genes. A transcriptional fusion of this promoter region (ectUp) with the reporter gene gfp was shown to be osmotically induced in E. coli and, more importantly, down-regulated in the presence of externally supplied compatible solutes [39]. The promoter region upstream of ectA, therefore, appears to sense a regulatory signal, apparently common for both the Gram-positive M. halophilus and the Gram-negative E. coli.
Opening up of a metabolic bottle-neck for ectoine production
Successful heterologous expression of the ectoine biosynthetic genes from the halophilic M. halophilus in E. coli XL1-Blue by Louis and Galinski [7] enabled us for the first time to utilize genetically engineered strains for ectoine production. However, as E. coli XL1-Blue in medium MM63 displayed a narrow salinity range (1–3% NaCl) and growth rates were by a factor of 2–5 lower than with DH5α, experiments in this study were conducted with E. coli DH5α. The pivotal role of E. coli aspartate kinases as a limiting metabolic bottle-neck had been realised before, as shown by the use of E. coli feedback-insensitive aspartate kinase to enhance threonine production in transgenic alfalfa (Medicago sativa L.) [40]. The data presented here prove that stringent feedback-regulation and/or transcriptional repression of the aspartate kinases in E. coli is in fact also the main limiting factor for recombinant ectoine production in this host.
When growth rates of E. coli DH5α pAKECT1 are compared to those of the control which accumulates ectoine from the medium (Fig. 5), one can see that the ectoine-synthesizing construct has a 40% lower growth rate at 2% and 3% NaCl. This difference may be explained by energy requirements and side-effects of a deregulated amino acid metabolism within the aspartate family. However, as this difference is diminished at higher salinities and completely abolished at 5% NaCl, one may conclude that, at the upper range of salt tolerance, ectoine production in the genetically engineered strain is equally efficient as ectoine uptake and that growth-limitations caused by overexpression of foreign genes and overproduction of aspartate family amino acids become less important.
As highest cytoplasmic ectoine concentrations (0.4 mmol (g dry weight)-1) were already achieved at a medium salinity of only 3% NaCl, this could be seen as an opportunity for ectoine production at comparatively low salt concentrations and relatively high growth rate (μ = 0.21, td = 3.3 h) [41]. Louis and Galinski [7] have previously reported similar cytoplasmic ectoine levels (0.38 mmol (g dry weight)-1) in recombinant E. coli XL1-Blue (containing plasmid pOSM11) at 3% NaCl. This strain however has a much lower growth rate (approx. 0.1) under the same conditions and appears to experience other growth-limiting restrictions. In order to improve the space-time yield of heterologous ectoine production even further, future work will address the option to combine the ectoine biosynthetic gene cluster with its corresponding genuine aspartate kinase from M. halophilus. The chances are that this enzyme will be feed-back regulated and/or transcriptionally repressed when osmotic equilibrium is achieved. Unfortunately, this postulated gene has so far not been identified in M. halophilus.
Co-expression of ectoine biosynthetic genes from M. halophilus and feedback-insensitive aspartate kinase from C. glutamicum MH20-22B in E. coli DH5α pAKECT1 resulted in strongly elevated ectoine levels, which correlated with the levels obtained when ectoine was accumulated from the growth medium (0.4 mmol (g dry weight)-1). A most important observation during all our studies with E. coli DH5α pAKECT1 was that ectoine levels increased only up to 3% NaCl (as in accumulating cells) and that ectoine was not detected in the growth medium at the end of the experiments. In case of unregulated synthesis an efflux of the overproduced ectoine via mechanosensitive channels (Msc) would have been conceivable [42–44]. The above conclusion appears to stand in contrast to the findings by Schubert et al. [45] who demonstrated continuous excretion of ectoine from a transgenic E. coli. The authors introduced the ectoine gene cluster from Chromohalobacter salexigens (devoid of the promoter region) into E. coli DH5α under the control of a tet promoter. Following a high-cell density fermentation to 20 g L-1 (cell dry weight) and subsequent induction, they observed continuous excretion of ectoine at a rate of 2 mg g-1 h-1, while the cellular level of ectoine stayed low (5 mg (g dry weight)-1). Such a low leakage rate would not have been detected under the low-cell density conditions employed here. Another experimental difference of the work reported here, besides the different origin of the genes, is transcriptional control by the orginal promoter region (ectUp) and use of growth conditions, under which compatible solute uptake systems are activated.
It is intriguing that ectoine levels were nearly identical in accumulating cells with ectoine in the growth medium, and in synthesizing cells harbouring pAKECT1. The only viable conclusion seems to be that heterologously expressed ectoine biosynthetic enzymes of M. halophilus are, according to osmotic needs, tuned and regulated in the phylogenetically distant host E. coli. This phenomenon may be explained by allosteric regulation of gene products at the level of enzyme activity, caused by yet unkown general osmotic response mechanisms shared by a large range of different bacteria.
Conclusion
In conclusion, we demonstrated that a metabolic bottle-neck for ectoine production in the non-halophilic recombinant E. coli DH5α can be relieved by coexpression of a deregulated aspartate kinase from C. glutamicum, and in doing so we paved the way for alternative, economically viable production methods. The surprising observation, however, that heterologous expression of the ectoine biosynthetic genes does not lead to overproduction in the host under the conditions employed, stresses the need to investigate regulatory mechanisms at enzyme level in order to disclose the biochemical signal which indicates osmotic balance to the cell.
Declarations
Acknowledgements
We would like to thank Lothar Eggeling for providing plasmid pRK1. This work was supported by the Deutsche Forschungsgesellschaft (GA 393/3-2) and the European Union (BIO4-CT96-0488).
Authors' Affiliations
(1)
Institute of Biochemistry, Westfälische Wilhelms-Universität Münster, Münster, Germany
(2)
Rowett Institute of Nutrition and Health, University of Aberdeen, Bucksburn, Aberdeen, UK
(3)
Institute of Microbiology & Biotechnology, Meckenheimer Allee 168, Rheinische Friedrich-Wilhelms-Universität, Bonn, Germany
Copyright
© Bestvater et al; licensee BioMed Central Ltd. 2008
This article is published under license to BioMed Central Ltd. This is an Open Access article distributed under the terms of the Creative Commons Attribution License (http://creativecommons.org/licenses/by/2.0), which permits unrestricted use, distribution, and reproduction in any medium, provided the original work is properly cited.