Nitrogen metabolism in haloarchaea
Received: 15 January 2008
Accepted: 01 July 2008
Published: 01 July 2008
Abstract
The nitrogen cycle (N-cycle), principally supported by prokaryotes, involves different redox reactions mainly focused on assimilatory purposes or respiratory processes for energy conservation. As the N-cycle has important environmental implications, this biogeochemical cycle has become a major research topic during the last few years. However, although N-cycle metabolic pathways have been studied extensively in Bacteria or Eukarya, relatively little is known in the Archaea. Halophilic Archaea are the predominant microorganisms in hot and hypersaline environments such as salted lakes, hot springs or salted ponds. Consequently, the denitrifying haloarchaea that sustain the nitrogen cycle under these conditions have emerged as an important target for research aimed at understanding microbial life in these extreme environments.
The haloarchaeon Haloferax mediterranei was isolated 20 years ago from Santa Pola salted ponds (Alicante, Spain). It was described as a denitrifier and it is also able to grow using NO3-, NO2- or NH4+ as inorganic nitrogen sources. This review summarizes the advances that have been made in understanding the N-cycle in halophilic archaea using Hfx mediterranei as a haloarchaeal model. The results obtained show that this microorganism could be very attractive for bioremediation applications in those areas where high salt, nitrate and nitrite concentrations are found in ground waters and soils.
Keywords
Nitrate ReductaseGlutamine SynthetaseNitrite ReductaseNitrate AssimilationHalophilic Archaea
Background
Nitrogen (N) is a major element in all organisms. It accounts for approximately 6% of their dry mass on average and thus in nature its assimilation is a key process of the N-cycle carried out by higher plants [
1
], algae [
2
], yeast [
3
], and bacteria [
4
]. In the environment, N can be found in different redox states from +5 (as nitrate) to -3 (as ammonia), but in biological compounds it is almost exclusively present in the most reduced form as a component of the two pre-eminent biological macromolecules: proteins and nucleic acids [
5
]. The reactions of the global biogeochemical N-cycle makes possible the interconvertions of nitrogen compounds and it includes both reductive and oxidative processes, in which prokaryotes play a predominant role (Fig.
1
).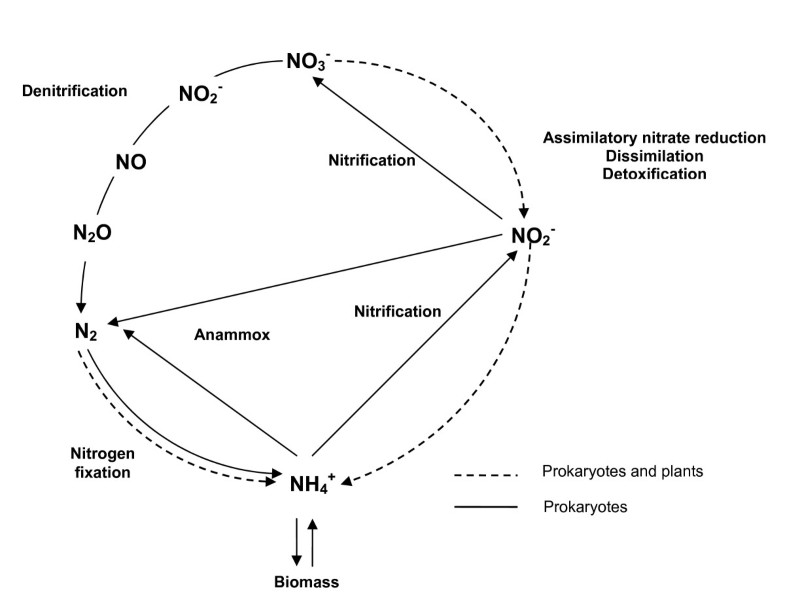 The assimilatory pathways of the N-cycle (N2 fixation and nitrate assimilation) generate ammonium that is then incorporated into the carbon skeletons to produce amino acids. However, whereas N2 fixation is carried out by free-living or symbiotic diazotrophic prokaryotes, assimilatory nitrate reduction is a property of many species of bacteria, fungi, algae, higher plants and Archaea. Nitrification and denitrification are redox processes involving nitrogen compounds to obtain metabolic energy. Nitrification consists of the oxidative conversion of ammonia to nitrite via hydroxylamine, and further oxidation of nitrite to nitrate [6]. On the other hand denitrification is a respiratory process (under anaerobic conditions) whereby nitrate is reduced to nitrite, NO, N2O and N2. Ammonification is the dissimilatory reduction of nitrate to ammonia that does not serve the purpose of nitrogen autotrophy [7]. Anaerobic ammonium oxidation (Anammox) is a reaction that produces N2 by reducing nitrite and oxidizing ammonium. This process, recently described, seems to be of ecological importance in marine environments [8].
Some of the compounds produced thanks to N-cycle reactions could affect life in different ways. Related to this, nitrous oxide (N2O) and nitric oxide (NO) have impact on the atmosphere: i) N2O is a more potent greenhouse gas than CO2 contributing to global warming, ii) in the stratosphere, N2O and NO destroy the ozone layer that protects organisms against UV light, iii) NO can be chemically oxidized to NO2, which is further hydrated to HNO2 and HNO3 (components of the acid rain). Besides, it is very important to note that when fertilizers are used at high concentrations or are not used by plants or microorganisms, products such as NO3- or NO2- can enter the aquifers [9, 10]. The consumption of drinking water containing high NO3- and NO2- concentrations causes human health concerns because NO2- interacts with haemoglobin. This results in the inhibition of the oxygen transport through the human body which is known as metahemoglobinemia. It has also been demonstrated that different kinds of gastric cancer are associated with the consumption of water with high nitrate and nitrite concentrations [11].
Although the N-cycle is well characterised in bacteria from physiological, biochemical and genetic points of view, there are few studies centred on this metabolic pathway in halophilic archaea. These studies, carried out with several Haloferax, Haloarcula and Halobacterium species, are mainly focused on denitrification [12–17]. Related to this, Hfx mediterranei is the only halophilic archaeon from which assimilatory pathway has been analysed in detail [18–22]. Recent studies on the respiratory nitrate pathway have revealed that respiratory nitrate reductases from Hfx mediterranei or Har marismortui are facing on the positive face of the membrane, instead of having the active site facing the cytoplasm as it has been reported for most of the bacterial nitrate reductases [16, 23]. This review covers the current knowledge on N-cycle in Hfx mediterranei with the objective to shed light on the haloarchaeal nitrogen metabolism and its implications on several environmental issues.
Abbreviations
Nir:

Assimilatory nitrite reductase
Nas:

Assimilatory nitrate reductase
Nar:

Respiratory nitrate reductase
NIR:

Respiratory nitrite reductase
Nor:

Nitric oxide reductase
Nos:

Nitrous oxide reductase
GS:

Glutamine synthetase
GOGAT:

Glutamate synthase
GDH:

Glutamate dehydrogenase
SHE:

Standard hydrogen electrode.
Declarations
Acknowledgements
This work was funded in part by research grants from the MEC Spain (BIO2005-08991-C02-01), Generalitat Valenciana (GRUPOS04/72 and GV04B/551). R.M.M.E. was supported by short-term fellowships (post-doc stay in DJR's Laboratory, Norwich) from FEBS, COST Action 856 and Generalitat Valenciana. DJR is a Royal Society Wolfson Foundation merit award holder.
Authors' Affiliations
(1)
División de Bioquímica y Biología Molecular, Facultad de Ciencias, Universidad de Alicante, Alicante, Spain
(2)
School of Biological Sciences, Faculty of Science, University of East Anglia, Norwich, UK
Copyright
© Bonete et al; licensee BioMed Central Ltd. 2008
This article is published under license to BioMed Central Ltd. This is an Open Access article distributed under the terms of the Creative Commons Attribution License (http://creativecommons.org/licenses/by/2.0), which permits unrestricted use, distribution, and reproduction in any medium, provided the original work is properly cited.