A traditional Japanese-style salt field is a niche for haloarchaeal strains that can survive in 0.5% salt solution
Received: 23 January 2007
Accepted: 09 March 2007
Published: 09 March 2007
Abstract
Background
Most of the haloarchaeal strains have been isolated from hypersaline environments such as solar evaporation ponds, salt lakes, or salt deposits, and they, with some exceptions, lyse or lose viability in very low-salt concentrations. There are no salty environments suitable for the growth of haloarchaea in Japan. Although Natrialba asiatica and Haloarcula japonica were isolated many years ago, the question, "Are haloarchaea really thriving in natural environments of Japan?" has remained unanswered.
Results
Ten strains were isolated from a traditional Japanese-style salt field at Nie, Noto Peninsula, Japan by plating out the soil samples directly on agar plates containing 30% (w/v) salts and 0.5% yeast extract. They were most closely related to strains of three genera, Haladaptatus, Halococcus, and Halogeometricum. Survival rates in 3% and 0.5% SW (Salt Water, solutions containing salts in approximately the same proportions as found in seawater) solutions at 37°C differed considerably depending on the strains. Two strains belonging to Halogeometricum as well as the type strain Hgm. borinquense died and lysed immediately after suspension. Five strains that belonged to Halococcus and a strain that may be a member of Halogeometricum survived for 1–2 days in 0.5% SW solution. Two strains most closely related to Haladaptatus possessed extraordinary strong tolerance to low salt conditions. About 20 to 34% of the cells remained viable in 0.5% SW after 9 days incubation.
Conclusion
In this study we have demonstrated that haloarchaea are really thriving in the soil of Japanese-style salt field. The haloarchaeal cells, particularly the fragile strains are suggested to survive in the micropores of smaller size silt fraction, one of the components of soil. The inside of the silt particles is filled with concentrated salt solution and kept intact even upon suspension in rainwater. Possible origins of the haloarchaea isolated in this study are discussed.
Keywords
Sand Sample
Hypotonic Solution
Halophilic Bacterium
Halobacterium Salinarum
Asian Dust Storm
Background
Salt, sodium chloride, has played a predominant role in human history. Hypersaline lakes and salt deposits have been natural resources of salt. People in hot and arid areas have also developed procedures to extract the salt from seawater using solar salterns. Seawater is concentrated gradually during flowing through increasingly concentrated pools until to crystallizer ponds. Japan is surrounded by sea, but there are no solar evaporation ponds, no salt lakes, or salt deposits. Japanese people have satisfied the need for salt by extracting salt from sea water using special methods through historic period until 1958 [1]. Since then, industrial salt production has been performed by concentrating sodium and chloride ions from seawater using the ion-exchange membrane electro-dialysis method, followed by boiling down of sodium chloride with vacuum evaporation apparatus (see the homepage of The Salt Industry Center of Japan [2]). Japan is still one of the largest importers of solar salt, mostly used in soda industry.
Haloarchaea, halophilic aerobic archaea, inhabit the hypersaline environments distributed throughout the world [3, 4]. It was long thought that haloarchaea were not living in natural environments in Japan. As of January 17, 2007, 79 species have been validly published in the family Halobacteriaceae. In general, haloarchaeal strains require high salt concentration for growth and cell integrity. They, with some exceptions, lyse or lose viability in low-salt concentrations or distilled water, and water sensitivity or lysis-resistence has been a key differentiation criterion between halococci and other haloarchaea [5]. The most well known haloarchaea Halobacterium salinarum, for example, requires at least 2.5 M NaCl for growth and cells lose their morphological integrity instantaneously at less than 1 M NaCl [6]. Another representative, Halococcus morrhuae does not lyse in distilled water [5].
The first report on the isolation of haloarchaea in Japan appeared in 1980. A non-pigmented extreme halophile, strain 172, was isolated by enrichment culture of a sand sample with salt attached, collected on seashore in Japan [7, 8]. This halophile was later designated as Natrialba asiatica [9]. The cells lysed in distilled water as in the case of most other haloarchaea.
In October 1985, scientists Horikoshi and Grant visited a salt field at Nie (Fig.
1
) located on the coast of the Sea of Japan 3 km east of Sosogi of Noto Peninsula (see Fig.
2
). They collected five soil samples from the salt field, and isolated seven strains on agar plates of a complex medium containing 4 M NaCl. Only one strain was shown to be extremely halophilic requiring at least 15% NaCl for growth [
10
]. It was reported that the cells of strain TR-1, designated as
Haloarcula japonica
[
11
], lysed upon suspension in 5% NaCl solution [
12
]. Although exact figures are not available for the Nie area, the statistics by Japan Meteorological Agency tell us that annual rainfall of Wajima City, only 22 kilometers west of Nie salt field, ranged from 1976 to 2560 mm during the last five years (2002–2006) with a mean of 2200 mm, compared to 1295 to1854 mm of Tokyo. It is known that the west coast of Australia, where solar salterns are operated, is arid with annual rainfall less than 300 mm (Bureau of Meteorology of Australian Government). In rainy season, the soil layer is sometimes flooded with heavy rainfall. Since 1986, however, no reports were published on the isolation of other haloarchaeal strains from natural environment in Japan. The question "Are haloarchaea really thriving in regions of Japan?" has not been answered yet.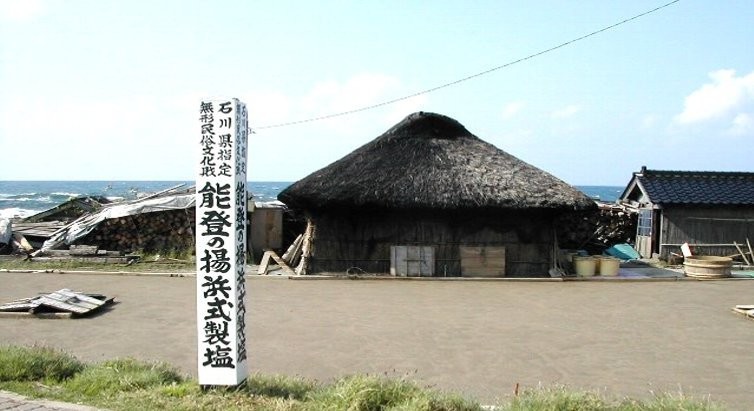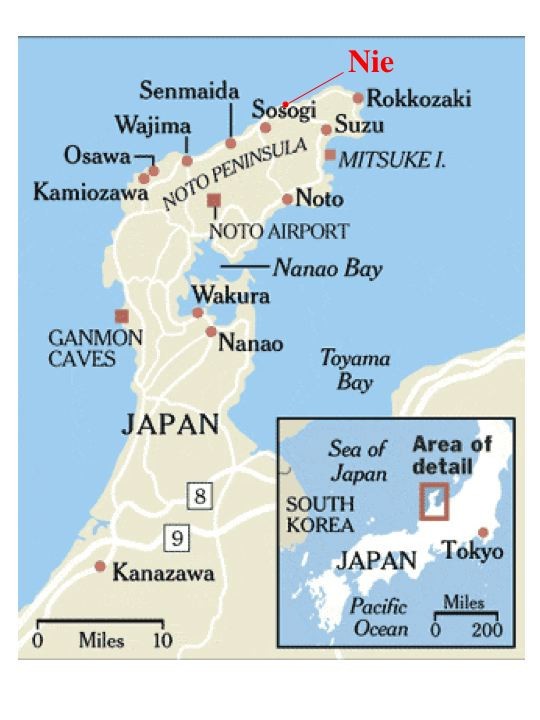 The present study was designed in 2005, 19 years after the report by Horikoshi and Grant [12]. In this paper, the authors collected soil samples from the same salt field, and found that all soil samples taken from inside of the field contained haloarchaeal cells. We isolated 10 strains, analyzed their phylogenetic positions, and characterized their survival rates at low salt concentrations.
Results
Isolation of haloarchaea, growth patterns and Gram staining
We plated out each sample directly onto 30% SW agar plates containing 30% salts and 0.5% yeast extract, spread the soil particles evenly on the surface of the plate with a spatula, and incubated at 37°C. After 8 days, many pink colonies appeared around soil particles on plates of sample No.7 and No.12 (Fig.
3A
) and a few colonies on plate of No.11 (Fig.
3B
). Further incubation up to 30 days resulted in formation of pink to red colonies on plates of all soil samples, at least a few per plate, that were taken inside of the field. Sample No.12 gave extraordinarily high numbers of colonies and most colonies seem not associated with black soil particles visible with naked eyes. A few white to beige colonies appeared on sand sample No.5 taken at seashore. No colonies appeared from three seawater samples. After repeated transfers on fresh medium, 10 strains were isolated and subjected to the following characterizations.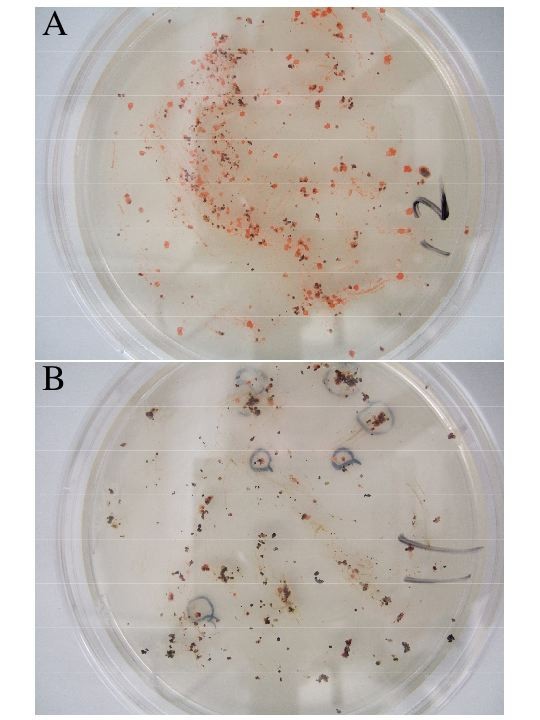 The 10 strains were cultivated in 25% SW liquid medium, and their growth patterns were observed at 37°C. Strains 10-1 and 14-1 grew very slowly, only after 2–3 days lag periods. On the other hand, strains 7-1, 7-2, 11-1, and 14-2 grew fast, with slight growth even after overnight culture. The final cell densities of the strain 7-1 and 7-2, however, were low, about one fifth of those of other 8 strains.
The 10 strains were pre-cultured in 25% SW liquid medium and streaked on agar plates of 25, 3, and 0.5% SW agar media, and incubated at 37°C for 10 days. No growth was observed on 3 and 0.5% SW agar plates.
Gram staining was done on stationary cells grown in 25% SW liquid medium. Strains 7-1, 7-2, 10-1, 10-2, and 11-2 stained negative, while strains 11-1, 13, 14-1, 14-2 were mixtures of cells that stained positive and negative. Most cells of the strain 12 stained gram positive.
Phylogenetic analysis
The 16S rRNA gene sequences of strains 7-1, 7-2, and 12 showed highest similarities to that of
Halogeometricum borinquense
, 97.1, 97.0, and 94.6%, respectively. The sequences of strains 10-1, 10-2, 11-2, 13, and 14-1 were very close to that of
Halococcus hamelinensis
with 98.9–99.5% similarities. Strains 11-1 and 14-2 were most closely related to
Haladaptatus paucihalophilus
, with similarities of 97.5 and 97.6%, respectively. A phylogenetic tree reproduced by neighbor-joining method is shown in figure
4
. We are in the process of fully characterizing these strains.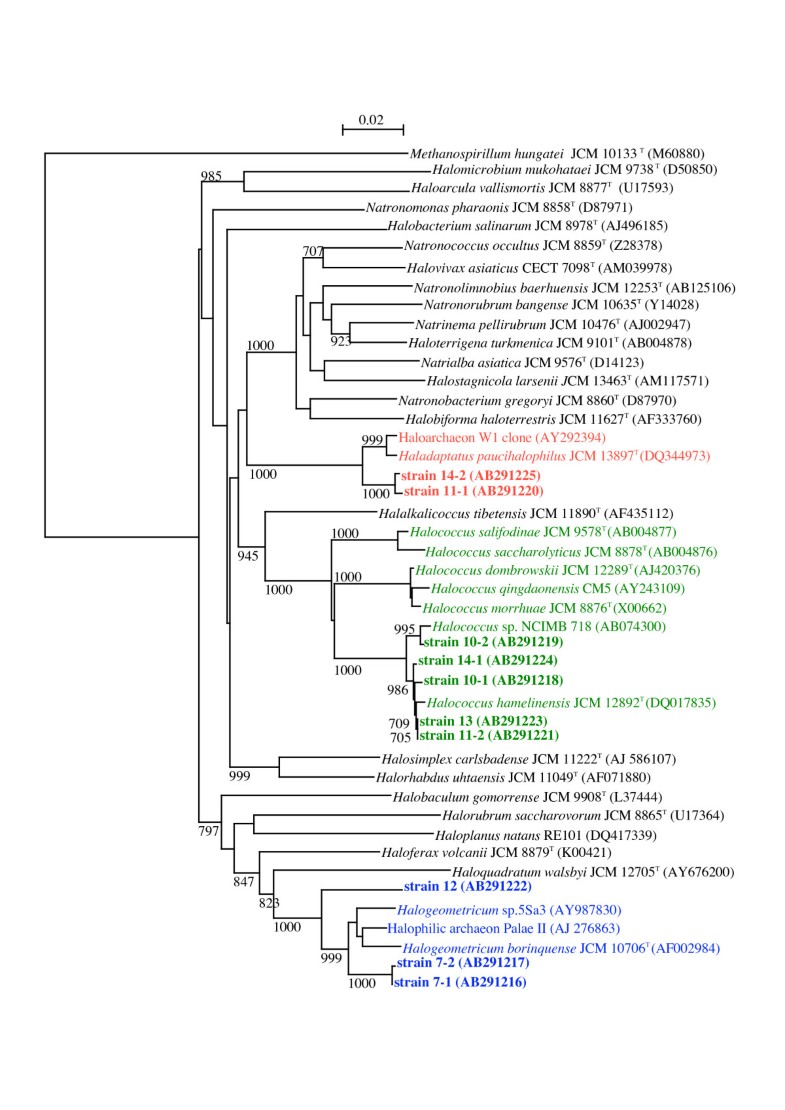 Survival rates in low salt solutions
In order to observe if the strains isolated from the salt field are tolerant to hypotonic solutions, three pellets of each strain cultivated in 25% SW liquid medium were suspended in sterile 30%, 3%, and 0.5% SW solutions, respectively, incubated at 37°C, and surviving cell numbers were measured every day. As shown in Fig.
5
, at least 50% of the cells of all strains maintained viability in 30% SW solution for 9 days. Survival rates in 3% and 0.5% SW, however, varied considerably depending on the strains.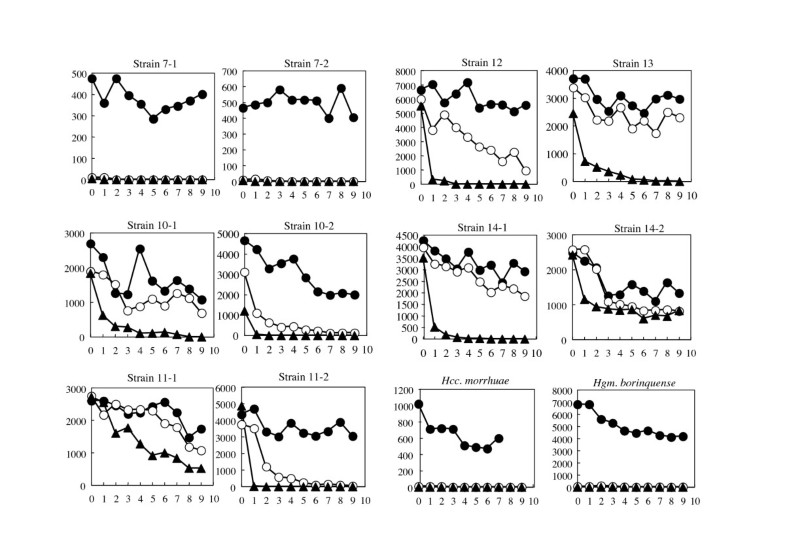 Two strains 7-1 and 7-2 died instantaneously upon suspension in 3% and 0.5% SW solutions, and the cells lysed leaving transparent solutions. Two reference strains, Halogeometricum borinquense JCM 10706T and Halococcus morrhuae JCM 8876T (= ATCC 17082T) also died instantly even in 3% SW solution. The cells of Hgm. borinquense lysed in 3 and 0.5% SW solutions, but the cell suspension of Hcc. morrhuae remained turbid (although red pigments had faded away), with even higher turbidity compared to the cell suspension in 30% SW. Microscopic observation of Hcc. morrhuae confirmed that the cells remained coccoid in 0.5% SW solution.
Viable cell numbers of strains 10-2 and 11-2 in 3% SW decreased to one tenth after 5 days, and cells died in 0.5% SW within a day. Strains 10-1, 12, 13, and 14-1 were slightly more resistant to 0.5% SW and maintained viabilities to some extents in 3% SW up to 9 days. The cell suspension of these strains in 3% and 0.5% SW remained turbid as in the case of Hcc. morrhuae, as was confirmed by microscopic observation.
Strains 11-1 and 14-2 possessed extraordinary strong tolerance to low salt conditions. About 20 and 34% of the cells, respectively, remained viable in 0.5% SW after 9 days incubation at 37°C. These cell suspensions again remained turbid, and no morphological change such as cell aggregation was observed.
Methods
Outline of the salt field
The salt field at Nie of Noto Peninsula, Ishikawa Prefecture (Fig. 1 &2) was built in 1596. This is the only remnant of traditional salt fields that prospered throughout Japan until 60 years ago, and was registered as an Intangible Folk Cultural Property of Ishikawa Prefecture in 1992. A terrace of 13 m × 25 m was made by flattening the ground and hardening the base with clay of 15–20 cm thick. The terrace was located about 14 meters away from the beach of the Sea of Japan and about 3.5 meters above the sea level. In the morning of a hot and windy day in summer (from May to September), the terrace is covered manually with a layer of soil, with a thickness of 1.5 to 2 cm. Average diameter of soil particles is roughly 0.3 mm. About 450 liters of seawater carried in buckets from the Sea of Japan is sprayed over the layer of soil. By leaving for several hours with occasional mixing of the soil with a rake, water evaporates by sunlight and high wind, leaving soil granules incrusted with salts. The soil is then collected with a special rake to a wooden extractor well, into which seawater is poured to dissolve the incrusting salts. Seawater contains about 3.5% (by weight) dissolved minerals: 2.7% sodium chloride and 0.8% calcium, magnesium and sulfate ions (Salt Institute [37]). A concentrated salt solution (more than four times concentrated than seawater) drained from the bottom of the extractor well is put into a shallow pan and boiled by heating to obtain crystals of sodium chloride (see the homepage of The Salt Industry Center of Japan [2]). The soil in the concentrator is recovered and used repeatedly.
The salt concentration of aqueous part of the salt field, thus, fluctuates within a day from 3.5% of seawater to saturation just before water is evaporated completely. The concentration decreases to almost zero when attacked by heavy rainfall. A video of the actual field labor in the field is available [38] (the talks are in Japanese).
Collection of samples and isolation of haloarchaeal strains
We visited the salt field on November 17th, 2005. At this season, the field was out of work, and most of the soil was already gathered to the center of the field and covered with a plastic sheet to prevent run-out by rain and snow fall during winter time. First of all, as controls, three samples (No. 1–3) of seawater left on hollows of rocks a few meters away from beach, and three sand samples (No. 4–6) of seashore were taken directly into sterile screw-capped 2 ml tubes. Eight soil samples (No. 7–14) were collected from different spots inside of the salt field. All samples were kept at 5°C until used.
The agar plates for the isolation of haloarchaea were prepared as follows; 2.0 g yeast extract (Difco) was dissolved in 4 ml of water in 500 ml medium bottle, 396 ml of 30% SW (Salt Water, prepared separately) and 8 g of Bacto agar (Difco) added, boiled for 15 to 20 min to melt the agar as completely as possible, and autoclaved. The composition of the 30% SW was as follows (per liter); 0.8 g NaBr, 0.2 g NaHCO3, 6.0 g KCl, 59.4 g MgSO4·7H2O, 41.5 g MgCl2·6H2O, 234 g NaCl, and 1.45 g CaCl2·2H2O, pH 6.5 (not adjusted). The CaCl2·2H2O was dissolved in small volume of water and added to the solution of all other ingredients with continuous stirring, and filled up to 1 liter. The proportions of salts are approximately the same as found in seawater, but ten times more concentrated.
About 0.5 g of the soil or sand samples was taken with a sterile micro-spatula and spread evenly on the agar plates with the spatula, while three drops of sea water samples were placed on agar plate and spread with a sterile spreader. The plates were incubated at 37°C in a plastic container to prevent desiccation. After incubation for 30 days, colonies separated enough from adjacent ones were picked up randomly and purified by serial dilution and plating out on fresh agar plates. Finally 10 strains, 7-1, 7-2, 10-1, 10-2, 11-1, 11-2, 12, 13, 14-1, and 14-2 were subjected to further characterization. The strains are now kept on agar slopes at 5°C and at -20°C in L-dried ampoules.
Measurement of survival cell numbers in hypotonic solutions
The 10 strains and 2 reference strains, Halogeometricum borinquense JCM 10706T and Halococcus morrhuae JCM 8876T, were inoculated into 150 ml Erlenmeyer flasks containing 20 ml of 25% SW medium, and shaken at 37°C for 9 days. Three aliquots of 1.5 ml of each culture were centrifuged at 15,000 × g and supernatants were discarded. Each cell pellet was suspended gently in 1.0 ml of 30%, 3% and 0.5% sterile SW solution (for example, 3% SW, approximately the same concentration as seawater, was prepared by diluting the 30% SW tenfold with distilled water), respectively, with a micro tip and incubated at 37°C for 9 days. Every day, 10 μl of each suspension was taken and diluted 10-4 with SW solution of the same concentration, and 20 μl aliquot was spread on agar plates of 25% SW medium and incubated at 37°C. The agar plates used every day were prepared a day before. The numbers of colonies were counted after 1 to 3 weeks depending on the strains (see Results).
PCR amplification of 16S rRNA encoding genes and sequencing
16S rRNA encoding genes of the 10 isolates were amplified by PCR with the following forward and reverse primers: 5'-ATTCCGGTTGATCCTGCCGG (positions 6–25 in E. coli numbering) and 5'-AGGAGGTGATCCAGCCGCAG (positions 1540-1521). DNA polymerase was Platinum Taq High Fidelity (Invitrogen). The PCR was done by 25 cycles, each of which consisted of denaturation for 20 s at 96°C, annealing for 15 s at 55°C, and polymerization for 2 min at 72°C. The amplified genes were cloned into pCR2.1 T-vector (Invitrogen) and sequenced using the Big Dye Sequencing Kit Ver. 3.1 (Applied Biosystems) by the ABI 310 DNA sequencer (Applied Biosystems). Sequencing primers used were 5'-ATTCCGGTTGATCCTGCCGG (positions 6–25 in E. coli numbering), 5'AGGAGGTGATCCAGCCGCAG (positions 1540-1521), 5'ATTGGGCCTAAAGCGTCCGTA (positions 563–585), -20: 5'-GGAAACAGCTATGACCATG (vector side's primer) and Rev: 5'-GTAAAACGACGGCCAGT (vector side's primer).
Phylogenetic analysis
The 16S rRNA gene sequences of type strains of type species of all haloarchaeal genera that have been validly published (as of January 17, 2007) were obtained from DNA Data Bank of Japan (DDBJ). The sequences were aligned by using CLUSTAL X Multiple Sequence Alignment Program. The phylogenetic tree was reconstructed by neighbor-joining method [39] and was evaluated by 1000 bootstrap samplings.
Authors' Affiliations
(1)
Bio-Nano Electronics Research Centre, Toyo University, Kawagoe, Japan
(2)
Department of Applied Chemistry, Faculty of Engineering, Toyo University, Kawagoe, Japan
(3)
Halophiles Research Institute, Noda, Japan
Copyright
© Fukushima et al; licensee BioMed Central Ltd. 2007
This article is published under license to BioMed Central Ltd. This is an Open Access article distributed under the terms of the Creative Commons Attribution License (http://creativecommons.org/licenses/by/2.0), which permits unrestricted use, distribution, and reproduction in any medium, provided the original work is properly cited.