Hindcasting of nutrient loadings from its catchment on a highly valuable coastal lagoon: the example of the Fleet, Dorset, UK, 1866–2004
Received: 06 November 2006
Accepted: 29 December 2006
Published: 29 December 2006
Abstract
Background
Nutrient loadings from its catchment upon The Fleet, a highly valuable coastal lagoon in Southern England, were hindcast for the period AD 1866–2004, using a catchment model, export coefficients, and historical data on land use changes, livestock numbers, and human population. Agriculture was the main nutrient source throughout, other inputs representing minor contributions. Permanent pasture was historically the main land use, with temporary grassland and cereals increasing during the mid-20th century. Sheep, the main 19th century livestock, were replaced by cattle during the 1930s.
Results
Total nitrogen loadings rose from ca 41 t yr-1 during the late 19th century to 49–54 t yr-1 for the mid-20th, increasing to 98 t yr-1 by 1986. Current values are ca 77 t yr-1. Total phosphorus loads increased from ca 0.75 t yr-1 for the late 19th century to ca 1.6 t yr-1 for the mid-20th, reached ca 2.2 t yr-1 in 1986, and are now ca 1.5 t yr-1. Loadings rose most rapidly between 1946 and 1988, owing to increased use of inorganic fertilisers, and rising sheep and cattle numbers. Livestock were the main nutrient source throughout, but inputs from inorganic fertilisers increased after 1946, peaking in 1986. Sewage treatment works and other sources contribute little nitrogen, but ca 35% of total phosphorus. Abbotsbury Swannery, an ancient Mute Swan community, provides ca 0.5% of total nitrogen, and ca 5% of total phosphorus inputs.
Conclusion
The Fleet has been grossly overloaded with nitrogen since 1866, climaxing during the 1980s. Total phosphorus inputs lay below 'permissible' limits until the 1980s, exceeding them in inner, less tidal parts of the lagoon, during the 1940s. Loadings on Abbotsbury Bay exceeded 'permissible' limits by the 1860s, becoming 'dangerous' during the mid-20th century. Phosphorus stripping at point sources will not significantly reduce loadings to all parts of the lagoon. Installation of 5 m buffer strips throughout the catchment and shoreline will marginally affect nitrogen loadings, but will reduce phosphorus inputs to the West Fleet below 'permissible' limits. Only a combination of measures will significantly affect Abbotsbury Bay, where, without effluent diversion, loadings will remain beyond 'permissible'.
Keywords
Permissible LimitInorganic FertiliserPhosphorus LoadingTotal Phosphorus LoadPermanent Grassland
Background
Eutrophication is a widespread and pernicious environmental problem, especially when it affects valuable sites of great ecological value and importance, where it may incur rehabilitation costs measured in millions of dollars per year [1]. In order to reverse the process, it is first necessary to identify the relevant nutrient sources [2], and then to reconstruct their respective impact over time. Such knowledge may then be used in order to develop and to evaluate realistic and sustainable alleviation and/or restoration strategies.
Information is acquired using three main approaches, namely
1. palaeolimnological reconstruction of changing nutrient concentrations and/or loads using microfossil transfer functions [3].
2. 'hindcasting' of present nutrient loadings based on export coefficient calculations using historical records [4–6].
3. a combination of the two [7, 8].
The data obtained are then used to reconstruct the timing of respective episodes of nutrient enrichment (and hence their cause), and to evaluate the likely effects of alternative rehabilitation strategies [9]. Here we present a reconstruction of nitrogen and phosphorus loadings on the Fleet, a highly valuable eutrophic coastal lagoon in Southern England, developed using the hindcasting approach, for the period AD 1866–2004. These results are then used to evaluate possible restoration strategies, including removal of point discharges, and installation of riparian buffer strips.
Site description
The Fleet (Figure
1
, Table
1
) is a saline lagoon impounded behind Chesil Beach, a natural coastal shingle barrier extending
ca
13 km from Portland to Abbotsbury, Southern England [
10
], and the finest UK example of its kind [
11
]. In terms of its physical characteristics and biodiversity, the Fleet is also probably one of the most important coastal lagoons in Atlantic Europe, containing a large range of habitats and species, a wide variety of common and unusual lagoonal specialists (some of which are national rarities), and a high degree of 'naturalness' [
12
,
13
].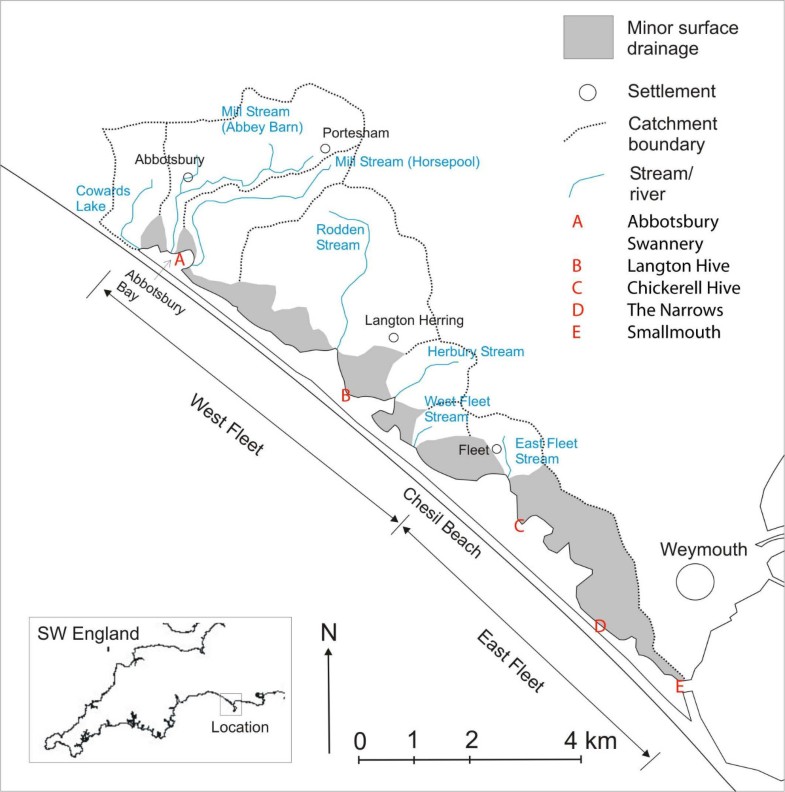 Table 1
The Fleet: morphometric and other data (from [19], [29], [31]).
Latitude

50° 35' N

Longitude

2° 30' W

Area (A, ha)

480

Length (L, km)

13

Minimum

Maximum

Width (m)

65

900

Depth (Z, m)

0.5

5.2

Catchment area (D, km2)

28.07
Tidal waters enter the Fleet via Portland Harbour (Figure 1), and a narrow channel at Smallmouth at the southeast end of the lagoon, with a maximum phase lag of 5.25 hours at high water springs, and 8–12 hours at low water [14, 15]. Hydrography generates a complex tidal and salinity regime, producing an ecologically important contrast between the strongly tidal and essentially (near) marine East Fleet, and the more brackish West Fleet, where there is a still strong salinity gradient, but a much smaller tidal range [16, 17]. The lowest salinities are observed in Abbotsbury Bay, at the extreme northwest end of the lagoon. Seawater also enters the Fleet via the Chesil Beach, but this process (pace [18]) represents only a minor input [14, 19].
Nutrient concentrations [
12
,
20
] are highest in Abbotsbury Bay and the West Fleet, falling to much lower values close to the entrance to the lagoon (Table
2
). The impact of catchment nutrient loadings is therefore greatest in the innermost parts of the lagoon, where reduced tidal flushing, high temperatures and high pH together produce extreme conditions. Here, macro- and microalgal blooms and oxygen deficits [
20
], the greatest concentrations of chlorophyll
a
, and the highest ratios of nitrogen to phosphorus [
12
] are observed, and filamentous green algae have at least partly replaced
Zostera
and
Ruppia
[
21
]. In 2002, the Fleet was designated as a Polluted Water (eutrophic) under the EC Nitrates Directive (91/271/EEC), and its catchment a Nitrate Vulnerable Zone (NVZ), a measure designed to reduce losses of nitrogen to the lagoon, principally from agriculture [
20
].
Table 2
Mean annual nutrient concentrations, N:P ratios and chlorophyll a concentrations for the Fleet Lagoon (from [12]).
| | TON (mg l-1) | Orthophosphate (μg l-1) | N:P ratio (TON: PO4-) | Chlorophyll a (μg l-1) |
| --- | --- | --- | --- | --- |
| West Fleet | | | | |
| Abbotsbury Swannery | 1.96 | 135.67 | 14.56 | 58.83 |
| Langton Hive | 0.46 | 30.67 | 15.89 | 9.50 |
| East Fleet | | | | |
| Chickerell Hive | 0.32 | 21.00 | 15.69 | 8.49 |
| The Narrows | 0.19 | 16.43 | 12.06 | 5.40 |
| Smallmouth | 0.09 | 9.75 | 10.34 | 2.94 |
The bed of the Fleet is occupied seasonally by macrophytic seagrasses (Zostera spp.), tassleweeds (Ruppia spp.), and populations of the rare macroalga, the Foxtail Stonewort (Lamprothamnium papulosum (Wallr.) J. Groves; [22]). In Abbotsbury Bay, macrophytes are replaced by green algae ('silk weed'; [23, 24]), and in other bays by sea lettuce (Ulva lactuca; [25]). Other rarities are present in the macrozoobenthos. Fish populations contain a mixture of marine and freshwater taxa, and the Fleet is protected as a summer nursery for juvenile marine species.
Fleet Lagoon and Chesil Beach Nature Reserve was established during the 1970s. The Fleet is also a UK Grade 1 SSSI, a Ramsar wetland of world importance, a Priority Habitat under the EC Habitats Directive, (92/43/EEC), a Special (EU) Protection Area (SPA) under the EC Directive on Conservation of Wild Birds (79/409/EEC) [20], and an SAC included in the Marine Special Areas of Conservation (Marine SACs) Project, part of the UK response to the European Water Framework Directive (2000/60/EC; [26]). It was also recently incorporated in the Dorset and East Devon Coast World Heritage Site [27]. Threats to its unique ecological character broadly include influx of exotic species, changes in hydrological regime, tourism, military activities, and eutrophication [12, 20, 26].
Abbotsbury Swannery, located at the northwest end of the lagoon, is one of the largest UK colonies of Mute Swans (Cygnus olor L.), and has existed for at least seven hundred years [28]. Since 1970, maximum numbers have risen from ca 50 to ca 400 adult birds [29], and concerns have been expressed that the Swannery constitutes a significant nutrient source to the lagoon. Total wildfowl counts (not just Mute Swans) for the Fleet (1983–1993) are given by Fair [30].
The catchment of the Fleet
The catchment of the Fleet (Figure 1) is underlain by Jurassic limestones and clays, producing soils of high quality, most of which have been under continuous cultivation for more than 3000 years [28]. The majority of surface drainage (71%), calculated using GIS [31], is to the West Fleet. Of this, 38% enters via Abbotsbury Bay. Apart from East Fleet Stream (4%), the East Fleet is served by direct drainage only. Land use is predominantly agricultural, with only ca 215 ha of non-agricultural land. Permanent grassland currently makes up 40% of agricultural land, cereals ca 27%, and temporary grassland 14% [32].
The main point sources in the catchment of the Fleet are Abbotsbury and Langton Herring STWs, both of which discharge into the West Fleet [33]. Consent to discharge (<ca 50 m3 day-1) is also granted to a number of small local businesses and residences. Besides agriculture, other diffuse ('non-point') sources comprise wildfowl (including Abbotsbury Swannery), Portland Harbour, groundwater and saline intrusions, and aerial deposition.
Estimated current annual loadings from catchment sources (total =
ca
130 t N, 3.3–4.1 t P yr-1), derived using export coefficients [
33
], are listed in Table
3
. For nitrogen,
ca
109 t yr-1 (84%) are contributed by agriculture, and only
ca
1.5–3 t yr-1 (1–2.5%) by point sources. For phosphorus, the relevant values are
ca
2.3 t yr-1 (55–70%) from agriculture, and
ca
0.5–1.3 t yr-1 (12–39%) from STWs. Of these,
ca
86% of the total nitrogen loading (106 t), and
ca
68% of phosphorus (2.1 t), enter
via
streams draining into the West Fleet, and
ca
37.5% of total nitrogen loading (46 t), and
ca
53% of phosphorus (1.7 t) into Abbotsbury Bay.
Table 3
Estimated annual nutrient loadings on the Fleet (from [33]).
Source

Nitrogen

Phosphorus

t yr-1

%

t yr-1

%

Point sources (STWs)

1.5 – 3.2

1 – 2.5

0.48 – 1.29

12 – 39

Livestock

44.4

34

1.54

37 – 47

Synthetic Fertilisers

64.4

49 – 50

0.73

18 – 23

Background

18.5

14

0.42

10 – 13

Abbotsbury Swannery

0.3

0.2

0.06

2

Other bird species

0.2

0.1

0.06

2

Total

129.3–131.0

3.29–4.10
Results
Nutrient loadings upon the Fleet from its catchment were hindcast for the period AD 1866–2003 using
1. historical records of local land use change and livestock numbers stored at the Public Record Office, Kew, London,
2. export coefficients for livestock, land use types and fertiliser use derived from previous literature, and
3. a catchment model which sums loads from all relevant sources.
Further details are given in the Methods section below.
Conclusion
Hindcasting studies show that the Fleet lagoon, despite its high conservation status, has been overloaded with nitrogen, throughout the past 140 years. The main source of this element, over the entire period studied, has been agriculture, with sewage effluent and other sources, including the Abbotsbury Swannery, playing only a minor role. Recent agricultural 'extensification' has served to alleviate this condition somewhat, but few measures seem available which might realistically reduce nitrogen loadings. Such a policy might not in any case be entirely desirable, in that the lagoon has clearly retained its great inherent ecological value in the continued presence of such elevated loadings.
Phosphorus loadings could, however, be reduced, for the West Fleet via further agricultural 'extensification', and for Abbotsbury Bay by a combination of this measure with phosphorus removal at the relevant STWs, or even diversion of effluent. As it is highly possible that certain changes in the ecology of the Fleet, particularly those seen recently in Abbotsbury Bay, may be due to 20th century increases in phosphorus loading [12, 20], this might be a wise and relatively inexpensive precaution.
Methods
These are the same as employed in a number of earlier publications [4, 6, 8–10, 44, 45, 50, 51], as originally adapted from Jørgensen [52].
Abbreviations
AD:

calendar year Anno Domini
BRDs – Bird Residence Day (for explanation:

see text)
BSFP:

British Survey of Fertiliser Practice
DEFRA – (UK) Department of Environment:

Food and Rural Affairs
EA:

Environment Agency (England and Wales)
EC:

European Community
EEC:

European Economic Community
EU:

European Union
FMA:

Fertiliser Manufacturers Association
FYM:

Farm Yard Manure
HRL:

Hydrologically Relevant Load
n.a.:

not applicable
Plc:

Public Liability Company
SAC:

Special Area of Conservation
SSSI:

Site of Special Scientific Interest
STW:

Sewage Treatment Works
TON:

Total oxidisable nitrogen
UK:

United Kingdom of Great Britain and Northern Ireland
Declarations
Acknowledgements
The authors wish to acknowledge the special support of the Ilchester Estate, particularly David Wheeler (Abbotsbury Swanherd), Andy Poore (Forestry Manager), and Don Moxom (Warden of Chesil Beach and Fleet Lagoon Nature Reserve). GW would also like to thank Richard Walmsley (Environment Agency), and the DEFRA farming statistics division, for help in obtaining data. PO'S also wishes to acknowledge the continued support of various members of the Fleet Study Group, especially Dr John Whittaker.
Authors' Affiliations
(1)
Environment Agency Wales, Cardiff, UK
(2)
School of Earth, Ocean and Environmental Sciences, University of Plymouth, Drake Circus, UK
(3)
School of Geography, University of Plymouth, Drake Circus, UK
Copyright
© Weber et al; licensee BioMed Central Ltd. 2006
This article is published under license to BioMed Central Ltd. This is an Open Access article distributed under the terms of the Creative Commons Attribution License (http://creativecommons.org/licenses/by/2.0), which permits unrestricted use, distribution, and reproduction in any medium, provided the original work is properly cited.